It is Casablanca 1831 and was only $346 (including shipping)!! I am ecstatic! She is my perfect size and the heel that I wear may have to be a tad bit shorter than I was intending, but that's it!!
Here is the stunning seller!! Isn't the dress gorgeous?! I tried to try it on in the stores but the sample size was a bit small, but isn't she gorgeous in all of her great sophistication and ruching?! The seller modified it to have a corset back as well... BTW I didn't mention that it retails for over 800 here!!!
Here are other pictures of her I am sooo excited and cannot wait to put her on!!!!
Here she is on B 22 a member of liweddings.com
Here she is from picasa web (the bride's name is AnneMarie)
Here is neat freak from pricescope...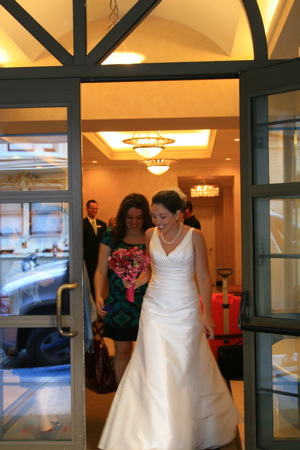 and here is Angiele from pricescope in the pronovias diamante that looks like my dres s:D